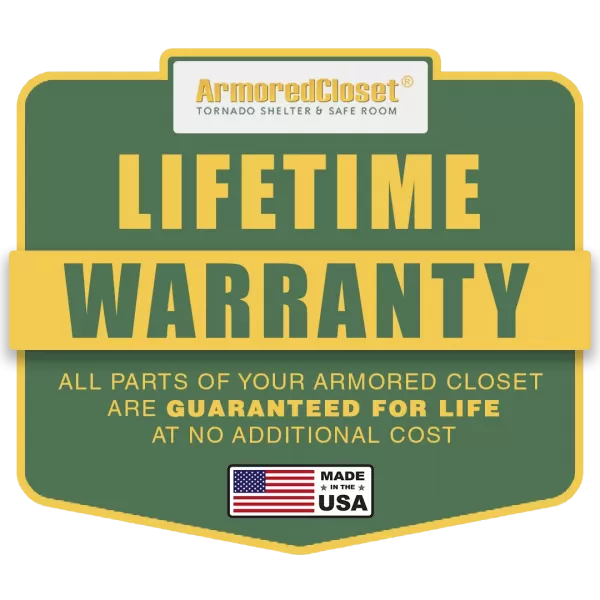 When you purchase an Armored Closet, you know you are purchasing peace-of-mind. Not only will our Armored Closets keep you and your family safe, all parts are guaranteed for life at no additional cost with the Armored Closet Lifetime Warranty.
All modular steel panels, barrel hinges, F-5 Latchbolts, F-5 Impact Channels and connecting hardware (Grade 5 nuts and bolts) installed by Armored Closet LLC authorized technicians are fully guaranteed against faulty workmanship for the lifetime of the unit.
There will be no charge to the customer for labor or materials on any repair due to faulty workmanship during the life of the unit. All door fixture hardware (deadbolts and door lever) carry the manufacturer's own Lifetime Warranty. Sentry Biometric Fire-Safes and Winchester Gun Safes installed within an Armored Closet also carry their manufacturer's warranty.
Magnetically attached LED Track Lighting is warrantied for one year against failure provided the light has not been dropped or damaged in any way. Track Light LED's are typically guaranteed for 10,000 hours of illumination. Batteries must be replaced by consumer as needed.
Anchor bolts are guaranteed for quality and workmanship by Illinois Tool Works, Inc.
FEMA SAFETY STANDARDS
The Armored Closet (Made in U.S.A.) has been engineered to meet and exceed FEMA safety standards established for occupancy rating, ventilation and F-5 tornado wind debris impact.
EMERGENCY SERVICE NOTIFICATION
Upon installation of your Armored Closet safe room, it is recommended that you call your city's emergency services and notify them that a tornado shelter has been installed at your location. We'll give you the GPS coordinates so you can give them to your local fire department or emergency management office for registration.