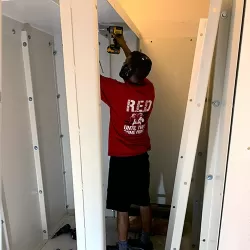 When you purchase an Armored Closet from us, installation of your new tornado shelter / safe room is included in the price. Once you choose the design elements you want and the best location for the structure, we pre-manufacture the components at our workshop for rapid assembly at your home.
We can install an Armored Closet in almost any area of your home, so you can choose to locate it wherever is most convenient for you and your family. We have designed and installed many armored storm and safe shelters in locations including:
Unused Space Beneath a Staircase
Utility Rooms
Basements
Garages
Bedrooms and Kitchens
Inside Existing Closets
On Patios
If you have another idea of where you want your Armored Closet to go, just tell us, and we'll work with you to make it happen. Our assembly crew is highly trained, courteous, and reliable, so you can rest assured that your Armored Closet will be installed perfectly and be fully functional as soon as the installation crew departs.
Hassle-Free Installation
In addition, the installation crew from Armored Closet will make sure to protect your home's furnishings, walls, carpets, and artwork during installation, avoiding any damage. To help us accomplish this goal, we use specially designed dollies, so we don't damage carpets, scratch floors, or dent walls while moving the panels into place.
You might be surprised to learn that installing a storm shelter or safe room takes only hours, and not several days or weeks. This rapid assembly is possible because we take extra care to understand each job ahead of time and pre-manufacture components to exact specifications for each shelter.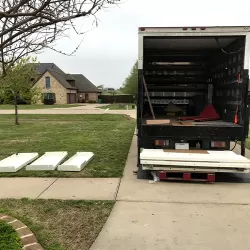 When our crew arrives, they have everything they need to install the unit in minimum time, including the unit panels, hardware, tools, and equipment. In addition, they know in advance if you have any special requests when installing the unit to protect your home's furnishings and décor.
The installation crews at Armored Closet have years of experience in the residential building trades, so they know how to work efficiently and carefully and bring everything they need when arriving to complete the job. And don't worry about cleanup. They won't leave any debris behind, and your home will look as good as it did when they arrived.
Quick and Clean Installations
This dedication to excellence makes it possible for an Armored Closet to be fully installed and operational in only a few hours from start to finish.
Before they leave, our crew ensures that the owner fully understands how to use the safe room. They go over everything from opening the door to locking it inside to emergency disassembly of the panels from the inside if debris blocks exiting through the door.
We are ready to answer all your questions about our Armored Closet installation services and custom-design options and consult with you for a shelter that fulfills your needs for safety in an emergency at a price you can afford.
Once your shelter is in place, you will have an exceptional feeling of safety and security for you and your family and the ability to get through all types of disasters.