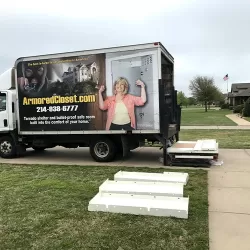 A Tornado can seemingly come out of nowhere, and be on top of you before you know it. A tornado shelter & safe room from Armored Closet can protect your family in your most desperate time of need. If you have been thinking about getting a storm shelter, don't put off protecting your family. Call Armored Closet for a custom tornado shelter / safe room solution for your home or business!
Our experts at Armored Closet will consult with you to determine what type of shelter is the best one for you and your family. We will review with you all of the details and quality that goes into each of our Armored Closet units to keep you and your family safe.
You have complete control over being able to customize the tornado shelter / safe room and maximize the space available to keep your family comfortable as well as safe.
Our above-ground safe rooms / storm shelters meet or exceed FEMA and ICC (International Code Council) standards to accommodate up to 16 people (plus pets), depending on the room dimensions you choose. We can customize your safe room as small as 3' x 3' or as large as needed. No matter the size, our above-ground safe rooms / storm shelters are built using quality materials.
Feature Upgrades
Ballistic Window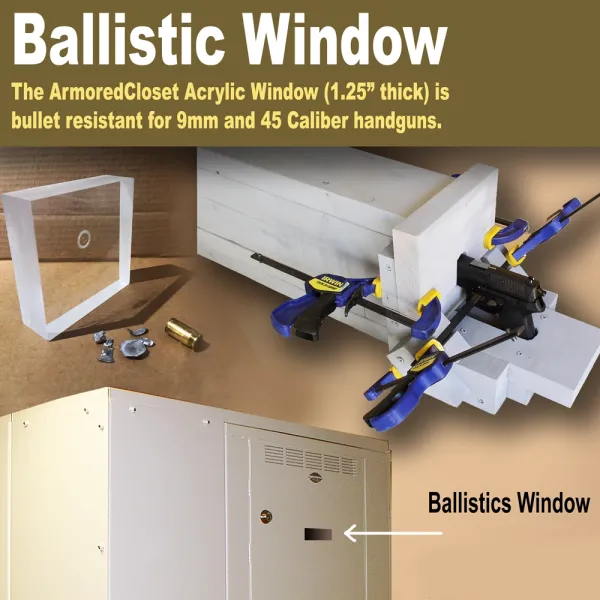 Upgrade your ArmoredCloset Tornado Shelter or Safe Room for only $200 to get the new Ballistic Window add-on feature. The ArmoredCloset Ballistic Window is a bullet-resistant acrylic window that is 1.25 inches thick and has been tested against 9mm and 45 caliber bullets. This innovative add-on feature provides added protection to those inside the safe room or tornado shelter, as well as safely increasing visibility of the outside environment. The Ballistic Window is available for every ArmoredCloset model and is a beautiful feature that enhances both the protection and aesthetics of the safe room or tornado shelter. 
Custom Installation
Armored Closets can be installed anywhere in your home or business. We typically install our above ground shelters inside a closet, garage, or under the stairs, and installation can be completed in as little as 3-4 hours.  Once installed, we'll give you the GPS coordinates so you can give them to your local fire department or emergency management office for registration.
If you are building a house, make sure that you order your Armored Closet ahead of time. We can install a tornado shelter / safe room anywhere in your home pre-frame during the new home construction process. We have installed Armored Closets in just about every area of a typical home.
Having a safe room built for your home can help provide "near-absolute protection" for you and your family from injury or death caused by the dangerous forces of extreme winds such as tornadoes and hurricanes or from intruders.