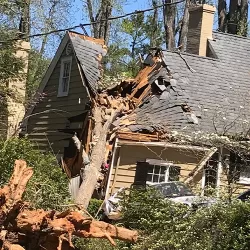 Your Armored Closet is custom-sized & can be installed anywhere! Whether you are looking for a Tornado Shelter, Storm Shelter, Safe Room, or Gun / Knife Armory we can custom make Armored Closets for your specific purpose and install it where you need it. We have installed Armored Closets in bedroom closets, kitchen islands, pantries, bedrooms, garages, guest / pool house, and more.
The patented Armored Closet has door modules that are made entirely of 1/4″ steel plate. Walls and ceiling panels are made of 3/16″ steel plate. All steel is powder coated (beige hammered semi gloss finish). We modify all sizes to fit your closet size at no additional expense.
Give us a call, and we'll come out and measure and give you a quote. Prices are valid for the Dallas / Fort Worth region. Destination fee may be applicable for orders in Oklahoma, East Texas and Panhandle regions. Please contact your local dealer.