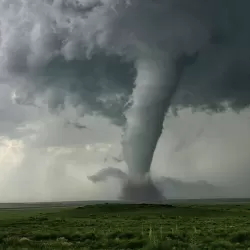 Tornadoes are devastating forces of nature that affect many regions of the world every year. Preparing a safety plan ahead of time ensures everyone in your family knows where to go and what to do in an emergency.
Here at Armored Closet, we know how damaging and deadly tornadoes can be in the south. Knowing where to shelter and following these helpful tips can keep your family safe when a tornado warning has been announced.
Where To Shelter From A Tornado
When possible, you should immediately retreat to the basement, cellar or safe room. If you don't have a basement or cellar get to the lowest level of your house and find an interior room with no windows. Bathrooms, closets or hallways are great options to hunker down in.
Other options for protecting yourself and others during a tornado: 
Get under a heavy table or another sturdy piece of furniture and protect your neck and head
Have an already established plan to grab your pets and necessary items
If accessible, wear shoes and a helmet. 
During tornado season, make sure your shelter space is stocked with essential supplies. 
Tornadoes will often affect cars, trees and the upper floors of the home. Staying as close to the ground as possible in a sturdy structure will keep you and your family safe.
How An Armored Closet Can Keep You Safe
You may not have the facilities in your home to properly shelter your family. Installing a storm shelter like one of our Armored Closets could give your home the safe room it desperately needs.
They're securely built in the home with quality construction materials that are tested to meet FEMA standards. Our Armored Closets are reliable and able to withstand the devastating pressures of even F5 tornadoes. Made of durable steel, our shelters are custom-sized to fit your needs and your home.
You have complete control of the size and space available to keep your family safe. Finding a safe spot for your family is essential during a crisis. While your home may have a cellar or basement that can keep you safe, don't take any risks when faced with the devastating effects of a tornado.
Never shelter in a mobile home
You may be living in a mobile home or RV as you tour the area and these types of structures are incredibly vulnerable to tornado damage. Even if they're tied down or secured, mobile homes have a high chance of flipping over or being lifted.
Evacuate the mobile home as soon as possible and find a nearby secure structure with a strong foundation. It can be hard to leave behind your home and your belongings but finding safety and protection against the elements is essential.
If you don't have access to a secure building, leave the mobile home and shelter in a ditch or low area a safe distance away. Stay out of wooded areas and away from vehicles and always cover your head and neck with your hands or a blanket.
Never Try To Outrun A Tornado
Hearing the local tornado siren go off can be a terrifying experience. Your first instinct may be to try and outrun the storm and get to safety. In reality, you should never chase after or attempt to get away from a tornado in a car.
If you're in a vehicle when a tornado siren starts, try to get home if possible. If you're too far away from your home, find a secure building nearby that you can shelter in until the tornado has passed. 
A natural disaster can happen at any time, and it's essential to know what to do no matter what situation you're in. Knowing the location of nearby shelters and what to do if you're far away from home is essential when developing a thorough emergency plan.
Protect Your Family With Armored Closet
Outfit your home with one of our advanced steel Armored Closets to best protect your loved ones in an emergency. Your family deserves tested and certified safety that can't be provided by a basement alone. Our shelter rooms are durable and safe, giving you the secure space you need to get through a tornado.