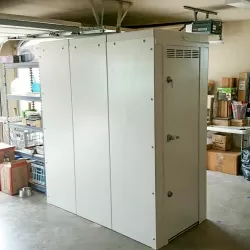 Texas residents know the importance of being prepared for severe weather and the possibility of tornadoes in their area. Disasters like tornadoes, hurricanes, and violent crimes are all too common. Fortunately, you can take action to protect yourself and your family from these events by installing a custom-built safe room and storm shelter inside your home.  
Our custom-made Armored Closets have been certified by professional engineers to both meet and exceed the specifications set forth by FEMA and the National Storm Shelter Association. Armored Closet has provided peace of mind to homeowners throughout Texas, as well as businesses, communities, and government agencies around the country
We hope you never need a tornado shelter, but having a custom storm shelter, steel shelter, or other safe room from Armored Closet will provide peace of mind. After the storm, your life may be altered, but because of your custom shelter, it will not be threatened.
Tornado Shelter / Safe Room Benefits
There are plenty of good reasons to consider installing a safe room at home or your place of business. Custom-built safe rooms and storm shelters are multipurpose, capable of protecting you, your loved ones, or your employees in several ways, including:
Protection from tornados
Safe shelter in other severe weather events
Safe room in the event of an intrusion robbery
Armory for safe storage of guns and knives
Easy-to-access safety for disabled, elderly, and children
Ultimate Protection against Home Invasion Crime
Sadly, violent intrusions and/or robberies are increasingly common. This crime often involves one or multiple armed assailants entering a home at night to rob and terrorize the residents.
The ultimate protection against this horrible crime is a steel-plated, bulletproof shelter where you and your loved ones can stay safe and secure. With walls and ceilings constructed of 3/16-inch solid steel, these shelters can withstand a point-blank shot from a .45 caliber gun.
Safety in Severe Storms
Tornadoes and other adverse weather are a part of life for most people in Texas and surrounding states. The solution for safety is the installation of a steel storm protection closet inside your home. When bolted to the concrete foundation or a concrete slab, even the most potent wind forces won't budge it because each bolt has a holding strength of over 4,600 pounds of force.
Storms, tornados, and criminals can descend on your house quickly. As a custom above-ground shelter, Armored Closet is easy for all family members to get in and close the door quickly. Designed with structural integrity in mind, our shelters will help you weather the storm.
Custom-Built Safety to Suit Your Personal Needs
Armored Closets are designed and built to suit various personal needs and desires. All our storm shelter products are fabricated in-house, using the highest quality materials available, in compliance with FEMA 361, FEMA 320 and ICC 500 standards.
You might want a space that includes:
A built-in, recessed Sentry Fire safe for vital documents and electronic drives
Stainless steel beam covers for added strength and protection on the door
A customized gun safe to keep your weapons secure at all times.
All these options and more are possible with a custom-built armored closet designed to meet your requirements.
Installing a Safe Room is Easier than You Think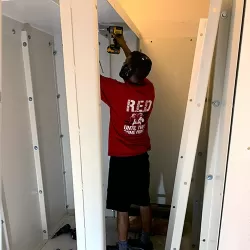 You might think that installing a safe room or storm shelter is a complex building project that would take weeks to complete. Not so with an Armored Closet. Our custom-designed, modular protective spaces can be sized to fit into a variety of already-existing areas inside your home and quickly installed.
Many people already have this type of shelter installed in locations such as:
Inside an existing closet or pantry
Under a stairway
In the corner of the garage
On a patio
Free-standing in the corner of a bedroom
In a pool house
Inside a mud room, craft room, or utility space.
Custom-built armored closets can be designed to fit into just about any existing space, including underutilized spaces in your home like an area beneath a stairway with a sloping ceiling.
Wherever you install it, an armored closet provides you and your family with high-quality protection to endure various potential emergencies. At Armored Closet, we are dedicated to quality, integrity and providing assurance that if you seek protection in one of our shelters you know that it has been built to the highest standards in the tornado / storm shelter industry.
Safe Rooms and Storm Shelters with Extra Safety Features
Your custom-built Armored Closet can include extra safety features such as:
Finger-safe door jamb for added safety when used by children and the elderly
F-5 impact channels to withstand tornado force winds up to 250 mph
Lever-Guard to prevent the latch from becoming a projectile in hurricane-force winds
Patented escape wrench to unbolt the door from the inside if blocked by debris.
Grade 1 Schlage deadbolts
Built-in LED lighting
Electronic, keyless door lever for easy entry.
A custom-built steel safe room and storm shelter provides your family with the ultimate protection from disaster, and installing one anywhere in your home is fast and straightforward.